This gritty spin-off of the New York Times bestselling
Shattered Hearts Series
follows mysterious and sexy Tristan as he attempts to abandon his demons in the name of love. This full-length novel can be read as a stand-alone or after Bring Me Home.
A steady stream of meaningless sex is all Tristan has left when he discovers the grandmother who raised him is dying and his best friend is getting married. He is lost; and the dark secrets in his past keep coming back to remind him of this. Until Tristan has an idea that will change his life and fulfill his dying grandmother's wishes: Abandon his playboy ways and settle down. And who better to do it with than Senia, the girl who has occupied his thoughts since their scorching hot tryst in the back of his sports car. The girl who makes him laugh and feel like a kid again. But when his world begins to crumble around him, the pain Tristan is hiding finds its way to the surface. Will Tristan finally learn to trust again? Or will he abandon Senia when she needs him the most?
Review

"Shut up. This is serious shit. I'm pregnant!" She whisper shouts the last two words and this makes me smile. I've never gotten anyone pregnant.
This is one of the best series I've ever read. I've been looking forward to Abandon since the second I finished the last Shattered Hearts novel. I have to say, I'm not disappointed because Abandon was such a wonderful addition to the series. Sometimes secondary characters take on a life of their own, and that's what happened with Tristan and Senai. Their story started off with a bang. It thrilled me to see sparks flying, attitude flaring, and passion burning all within the first chapter of the book. Honestly, I was so completely hooked that I finished reading it in one sitting and loved it!
I knew from reading the first three Shattered Hearts books that Senai was pregnant, so I went into this with an idea of what their story was about. I had no idea that their story would be so emotional and compelling though. Tristan had such a gritty and unfortunate past that it was really heartbreaking to read about, and Senai's heart had just been broken by her ex-boyfriend. Their relationship was a surprise for both of them. After one spontaneous hook-up, they found themselves permanently bonded to each other by a pregnancy. It was clear that they were both interested in each other before that happened, and it was easy for me to see that they had a ton of chemistry between one another.
I have to admit, I don't think this can be read as a standalone. Let me rephrase that... You could read it as a standalone, but you won't feel the same emotional connection to the characters as you would if you read the entire series. I say that because if there is one thing I could change about this book, it would be to add a little more relationship development. I realize they found themselves in a ready-made relationship, but I felt like some of the "feelings" came a little to quickly. I would have liked to see their relationship unfold a little more in the beginning. On the other hand, the character development was really good. Really, really good. I felt like I completely knew both characters, and I was attached to both of them, individually. They both grew a lot throughout the book but Tristan grew astronomically.
I loved the flirty batter. I loved the sass that Senai threw around. I loved Tristan. I just really loved it.
"I didn't know love had a sound. I know that Senai's tongue takes like Tic Tacs, and, to me, that tastes like love. I know her neck smells like Ralph Lauren perfume. And I know the softness of her skin on every part of her body. But I guess you don't really know the sound of love until you hear the sound of your heartbeat pounding in your ears when you're worried about the one person you hope you never have to live without."
This is an unforgettable series. Chris and Claire's story is permanently embedded in my brain, and now Tristan and Senai's is sitting right there beside them. I highly recommend this to all NA readers. It's a quick, emotional, witty, and heartfelt read that you don't want to miss out on!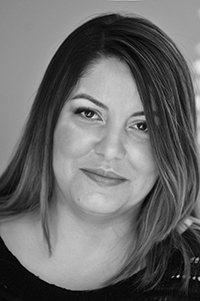 New York Times and

USA Today

bestselling author Cassia Leo grew up in California and has lived in three different countries. She loves to travel and her dream is to one day score a record deal based on her awesome shower singing skills. She is the author of the Shattered Hearts series (

Relentless, Pieces of You, Bring Me Home

) and the Luke and Chase series.