Synopsis
Sometimes it takes someone else to show us what we are truly capable of becoming.
Suffering from years of violent abuse, Ryan Campbell has learned how to keep people from getting too close. But when you shut yourself off, people get hurt along the way. Never caring much about others, Ryan creates a world in which he doesn't have to feel.
When Ryan meets Candace Parker, all of his walls slowly begin to crumble. Not sure of the truth of who she is, he feels his mind is playing tricks on him. Unable to force out the thoughts that consume him, Ryan is haunted by visions that torment him every time he looks at her. He finds himself swallowed by guilt and blame, but he's unwilling to turn his back on the one person that could possibly save him.
You've heard Candace's story in Fading, now hear Ryan's.
Excerpt
She sniffs and I know she's crying. Having her like this, in my arms, is an intimacy that's completely foreign but comfortable. I'm sure she can hear my heart pounding, but I need her to hear it. I need her to feel it as it thuds in my chest because I need her to hear me falling for her, 'cause that's what's happening here—I'm falling.

I never wanted to before, but with her, all I want to do is fall. Fall into her. Fall so deep inside of her heart so that I never have to be without her. That's what this girl does to me. That's how powerful she is even when she thinks she's at her weakest. She's broken. I see it clearly, but whatever it is that's haunting her, I wanna make it fade. I wanna make it fade and make her fall too—with me.
When she begins to pull away from me, I selfishly want to tighten my hold on her and keep her like this for a little longer. I worry this was just a random need for comfort from her, that I won't get this again, that she doesn't feel what I know I'm starting to. Fuck, this hurts.
Review
I'm not going to recap this because if you're reading Falling, then you most likely have read Fading, so I'm going to jump right into it.
First of all, I was like this for much of the book...
I'm usually very wary about follow up books that come from a different POV. Often times I find myself bored, reliving the same story again, and I wonder why? What's the point? Admittedly, I started Falling feeling this way. I loved Fading, and while I was head over heels in love with Ryan, I didn't think I needed to hear the story from his perspective.
Boy, was I wrong.
E.K. Blair did an amazing job telling this story through Ryan's eyes. This follow up was heartbreakingly beautiful, and I'm so happy that she gave us his side of the story. Watching him suffer at what he witnessed, and then the realization that Candace was that girl was truly heartbreaking. The pain, the anger, the anguish that he felt? I felt it right along with him. E.K. found the perfect balance between an angry, disillusioned man who was also sweet, gentle, loving, and protective. The way that Ryan became Candace's safe haven was tear-inducing, and I have to say, my eyes haven't cried so hard in an extremely long time. I thought that hearing about these events from Candace's perspective was heartbreaking enough, but watching Ryan continuously blame himself was equally agonizing. E.K. Blair knows how to get those tears flowing!
I could say so much more, but you really need to experience Falling for yourself. If you thought you were already in love with Ryan Campbell, you've seen nothing yet. And of course, Jase and Mark are wonderful additions, and I loved Ryan's family even more this time around!
The end and the epilogue of this book were pretty much perfection. Its E.K.'s writing at it's greatest, and I'm so glad I took this journey with Candace and Ryan. Their story is beautifully tragic, yet undeniably heartwarming. These two will stay with me for a long, long time.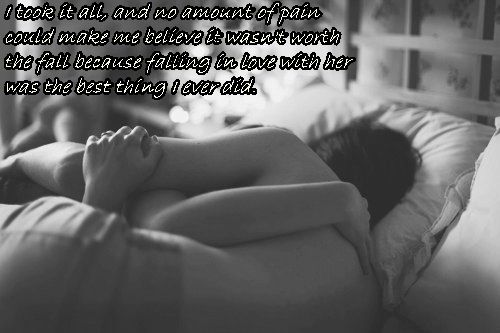 About the Author
USA Today bestselling author and International Amazon bestselling author, E.K. Blair takes her readers on an emotional roller coaster with her FADING series. A former first grade teacher with an imagination that runs wild. Daydreaming and zoning out is how she was often found in high school. Blair tends to drift towards everything dark and moody. Give her a character and she will take pleasure in breaking them down, digging into their core to find what lies underneath.
Aside from writing, E.K. Blair finds pleasure in music, drinking her Starbucks in peace, and spending time with her friends. She's a thinker, an artist, a wife, a mom, and everything in between.
a Rafflecopter giveaway