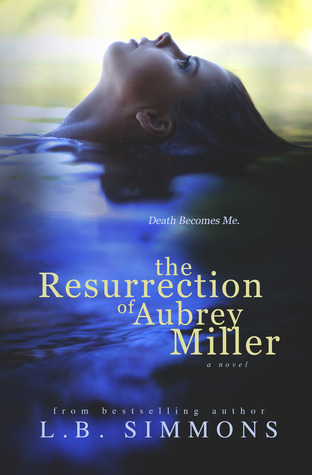 Sometimes death isn't the end. Sometimes it's a beautiful beginning...

Death.

For some, it's simply one of life's certainties, nothing more. For others, it's merely a fleeting thought, one often overshadowed by the reckless delusion that they have been blessed with the gift of immortality.

For Aubrey Miller, death is the definition of her very existence. Overcome with the guilt resulting from the loss of her beloved family, she alters her appearance from the once beautiful, blonde-haired, blue-eyed little girl to that of one shrouded in complete darkness, enveloping herself in her own unbreakable fortress of solitude as a form of protection for others.

As she enters her first year of college, her goal is simple: Earn a degree with the least amount of social interaction as possible. What she never anticipates is the formation of very unlikely relationships with two people who will change her life in ways she never believed possible: Quinn Matthews, the boisterous former pageant queen, and Kaeleb McMadden, a childhood friend from her past who never really let her go.

Over the years, as their connections intertwine and grow, a seemingly indestructible bond is formed between the three...

But when death painfully reemerges, Aubrey is lost once again, burying herself deeper than ever before inside the familiar fortification of her fears.

Will the refuge of friendship, the solidarity of life-long bonds, and the power of unconditional love be enough to do the impossible?

Will they be enough to finally bring about...

The Resurrection of Aubrey Miller?
"I'll help you get lost any time, Sunshine. The only deal is you have to promise to come back. I never want to lose you again."
I need to give a shout out to Bianca in the
Book Club
for encouraging me to read this one. She's a smooth talker. Here's what she said about the book.
Bianca: "

You'll cry for good things. Sad things. But most of all beautiful things."
And how right she was. I'm not sure I ever started crying, but I did get a little teary eyed in one particular spot. To be honest, this is the best NA book I've read in awhile. It's exactly what I think NA should be. It's all about a girl named
Raven
Aubrey and her journey through college. She had a horrific past and she's managed to bury it deep within herself. She disguises herself as "Raven" in an attempt to keep everyone away. She thinks she's a walking death wish and that anyone that comes around her is in danger. She meets her bubbly roommate and a boy from her past in college... and well the rest is what you'll have to read about.
Like I said, it's exactly what NA should be in my mind.
Girl that's lost finds her way. She might find love. She might find peace. She might find happiness. But, mostly, she finds herself
<--- my definition of NA. I just adored the whole story. It was expertly written and totally original in the way that it was arranged. I really have zero complaints because I was glued to my kindle for hours! There were a few spots where I thought,
Ok this is a little far-out. Well at least I hope it's far out because it would really suck if all these bad things really happened to a person.
But far-out or not, it worked. It sends a strong message to girls trying to find their place in life. It also sends a strong message to girls with low self esteem and girls that have lost all hope. Huge kudos to L.B. Simmons for writing a book with such a strong and positive message. It was so nice to read such a quality story because they really are far and in between these days. *sigh* I'm getting all sentimental...
It's truly such a precious story. I urge you to read it. For me, it sits on a shelf right beside Slammed, The Sea of Tranquility, Hopeless, and the Crash series. <-- that, my friends, is my favorites shelf.
I could go on and on and tell you with a bunch of fancy words how much I enjoyed the book, but, really, I can sum it up pretty simply --
I. Loved. it.