The girls in the
BOOK CLUB
went crazy over The Resurrection of Aubrey Miller (as did I)!! We had a lot of questions that we wanted to ask the author, L.B. Simmons, and she was ready to answer! If you haven't read this book yet, you should!! Here is [
my review
].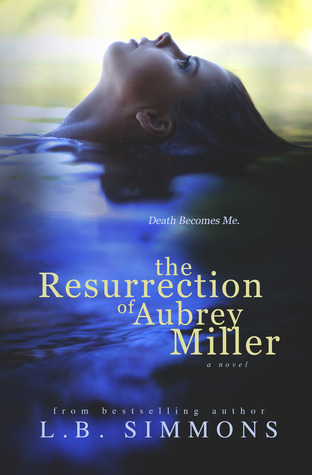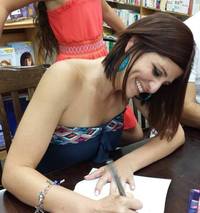 LB Simmons

Hey L.B.! Erica here. Thanks for being our first Back Porch Book Club Special Guest! The Resurrection of Aubrey Miller, your newest release, has received some major buzz lately. After several recommendations from ladies in the book club, I decided that I had to read it right away. And read it I did!! I loved it and so did all the other girls in the book club. Naturally, since we loved it so much, we have a ton of questions. Feel free to overshare and tell us all your secrets ;) We won't mind.

Ok, we will now begin the interrogation (haha)

Bianca: Kaeleb is the epitome of one's soul mate. What inspired his character?

When I start to write a book, I typically know the heroine pretty well. I already have in mind her issues, her humor, her quirks…most of it. And then hero typically balances her out. I write freely as the story begins and let them play off each other as they interact in my head. With my first book, Running on Empty, Alex was incredible stubborn so Blake was extremely patient. In my second book, Running in Place, Tatum was a crazy party girl and Noah was the perfect, grounded polar opposite. And in The Resurrection of Aubrey Miller, of course, Aubrey was lost and she needed someone strong to push her and call her on her bullshit. But he also had to be wise enough to give her time and room to fight her own battles. I really can't take credit for him, that's just how he was when it came to her.

Tori: What was the toughest scene for you to write from this book?

GAH! So many heart-wrenching scenes, but I can say that when Adley dies was the first scene I have ever cried in while writing. I'm not a crier at all. So when tears started forming, I knew it would be an emotional one. I have three little girls, all of which were fans of sliding in the bathtub. My husband started to read it and flat out walked away, but not before turning and asking how the hell I can write something like that. It wasn't easy, but it had to be done. Linda's death scene was very hard for me to write as well. I felt the emotion right along with Aubrey when she crawled up and pulled that blanket up over the both of them. Kaeleb's goodbye was also very difficult, because I knew both of them so well at that point, I knew how hard it was for him to let her go. To trust that she would find her way. Even though he had to give her that tough love push toward the end, he knew she needed to reach her low before he would ever get her back. The amount of frustration he felt with her in that moment, I still get a lump in my throat. I miss him so much!

Bianca: Were there times you cried during the writing process?

LOL! I already answered that one. Linda and Adely were the two that really got to me. It's different when you write, because I read avidly as well, but when you are creating the story in your mind as you type it, you are omniscient. You feel everyone's emotions, not just the central character. So, the scenes can become compounded with everyone's feelings hitting you as you write. So in Linda's and Kaeleb's scenes, as mentioned before, they were probably even more emotional for me than the readers. Linda's thoughts while approaching death and Kaeleb's fear to let her go were definitely at the forefront.

Tori: Did either Aubrey or Quinn's struggles require much research?

I have had the same struggles that both of them had in the book. Depression definitely, maybe not to Aubrey's degree, but definitely feeling lost and wanting to give up. In order to write the story, I had to find those feelings and I really hone in on them to be able to depict them for readers. I also had an eating disorder, so a lot of Quinn's statements were my own. That was a very long time ago, but I did not find it difficult to recall them. And as for Palmer's sessions, even though he was a doctor, his role was not to psychoanalyze her. His presence was really to help guide her, as a friend. So when writing him, I really just asked questions I would ask as a friend. I don't have a Psych degree, and wouldn't feel comfortable playing that part in a book.

So, to answer your question, (LOL), the research was more internal than external. Finding those feelings of despair and sadness and getting them out on paper for the both of them and praying to God I do them justice.

That being said, I did research Linda's illness. I had to build a believable timeline for her, and address her treatment, surgeries, and the affects that both of those along with cancer would have on her body. Hospice also. I would say because hers was more physical, that required more outward research than the emotional aspects of Aubrey and Quinn.

Tori:

Would ever consider writing scenes from The Resurrection of Aubrey Miller from Kaeleb's POV :D????

LOL! I would definitely. It's funny, you let them go after release, but it's not really hard to recall them. Although I have already started planning my next project, I would be able to slip back into Kaeleb's character easily. I really fell hard for him. So revisiting him definitely wouldn't be out of the question.

Erica: I've read Running on Empty and The Resurrection of Aubrey Miller (I loved them both). There's a little bit of a genre hop there. I was wondering what genre your next book will be? Are you more comfortable writing one genre more than the other?

LOL! Yes, they are very different. I would say that Running in Place is kind of the bridge between the two, because it has the same feel as Running on Empty but is of the NA genre. As stated earlier, I am already planning my next project. It will be another genre hop as I am going to be writing something in the YA genre. I don't really feel bound by genres, because I write what I feel. If a story calls to me, and I can emotionally connect and feel that initial excitement when I start to develop a plot, I know I'm onto something. My writing is mostly emotional, so that connection is all that is really required for me to invest in a new book. Not the genre.

Group Question:

We just want to thank you so much for stopping by our book club and chatting with us. It's so nice of you to take the time out of your schedule to chit-chat with readers. We think you're awesome. Is there anything else that you want to add about your books or future books? Also, since we all have a serious book hangover from YOUR book, do you have any suggestions for books we should read now (while we wait on another release from you)??

Regarding my future books, I just hope they continue to get better and the stories continue to touch people as they have in the past. With each new one, I feel more confident as I really try to perfect the way I write. Running on Empty was my very first one so personally, I feel it could be improved upon. But, then I wrote Recovery (novella), Running in Place, and then Aubrey. With each new book, I feel more confident and I think that carries over into my writing.

I have a really random list of favorites: For major book hangover, I would say The Fault in Our Stars. I love the writing and the banter between the two is laugh out loud funny. But it also has the emotional depth that I love. For paranormal, I always recommend the Charley Davidson series by Darydra Jones. Also laugh out loud funny, but super sexy. For Romance, I loved Wallbanger by Alice Clayton and Tangled and Twisted by Emma Chase. Now that I am listing these, I am seeing that the funny books seem to be my favorites. So maybe not so random. LOL!

J

Thank you so much for having me and reading The Resurrection of Aubrey Miller! I have been so overwhelmed by the response her story has had and the way that the lessons were received by so many. It means so much to me that you even wanted to ask me anything. LOL! I really enjoy reliving the story, so this was very fun for me. Thank you ladies for everything.