Virginity.

Bliss Edwards is about to graduate from college and still has hers. Sick of being the only virgin among her friends, she decides the best way to deal with the problem is to lose it as quickly and simply as possible-- a one-night stand. But her plan turns out to be anything but simple when she freaks out and leaves a gorgeous guy alone and naked in her bed with an excuse that no one with half-a-brain would ever believe. And as if that weren't embarrassing enough, when she arrives for her first class of her last college semester, she recognizes her new theatre professor. She'd left him naked in her bed about 8 hours earlier.
Review
"Only I could have an affair with a teacher on accident."
AND that's why I love you Bliss!
Losing it
was such a flirty and fun read! Bliss's thoughts and inner ramblings had me in hysterics. I laughed myself to tears. I can't believe I'm so late to the party on this one!
The blurb sums this one up pretty well. Bliss heads out with her best friend for a night on the town with one goal in mind…
to lose her virginity
. She's a nervous wreck, because the idea of having sex terrifies her. She has the virginity cloud hanging over her head and it's haunting her. After one too many rounds of tequila, she runs into Garrick. She's in lust the minute he starts talking with that British accent. They hit it off while talking about Shakespeare and she ends up leaving the bar with him. The night doesn't go as planned and Bliss has the most hysterical flip-out in the middle of a super steamy scene. I mean it was....
HOT
and then.......
"Stop, cats, stop…"
What the hell was I saying?
"Sorry, love. Did you say cats?"
"Yes, I can't do this…right now. Because…I have a cat."
I don't even have a cat!
"I don't see a cat."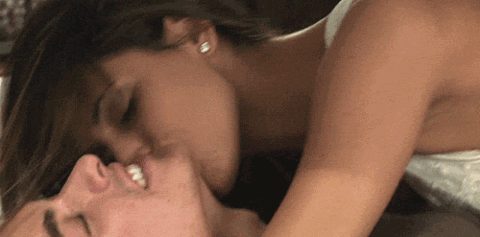 I can't even write this review with a straight face. I was
dying
of laughter. Everything Bliss does and thinks is so freaking funny. Needless to say, she made a run for it that night. She plans to try to pretend the whole thing never happened, but that's hard when you walk into class and see the guy you left in bed the night before...in the front of the room...because...he's the teacher!
Even though it's clear they have a connection, there's nothing they can really do about it considering their student/teacher relationship. Plus, Garrick doesn't know the real reason Bliss left him that night. So, they have do this little dance around each other. A few kisses, lots of stares, a little bit of flirting...
"I'm sorry." He didn't look sorry. He looked like he wanted to do it again."
Nothing gets too steamy again until the end of the book. There are some really sweet scenes too, and it's so cute and adorable.
For me, the first half of the book was better than the second. Don't get me wrong, I liked the second half, but the first half had a little something I liked better. In the first half of the book, it was funny, but there was also fire. Garrick had this whole sexy thing going, and I was in love. I'm still in love, but in the second half...it just turned more
adorable
. I like adorable. There's nothing wrong with adorable, but
I LOVE FIRE
.
You can't pass this one up! If you need a pick-me-up or just are due a good laugh,
Losing It
is the perfect medicine!! Now, I'm ready to Fake It! Can't wait to read
Faking it
!
My Rating: 4 stars!
Reviewed by:
AUTHOR LINKS
Cora Carmack