Blurb
Park Reed is a bastard in every sense of the word. He hasn't always been this way. But after his heart was broken by the only girl he ever loved, being heartless gets him through the day and allows him to fill his nights with the nameless girls he has no intentions of seeing again. He now lives his life following his ever-growing list of "life lessons."
Lucy Braden is everything Park is not. She's sweet, caring, and an all-around nice person. She tries to follow Lucy's Rules to Live By every day.
When Park moves in with Jessie, which happens to be the floor below Lucy, Jessie's one stipulation: Lucy is off limits to Park. The problem with that is Lucy is determined to be a good friend to Park and see past the drinking and random girls to find the man beneath it all. The other problem: Park follows his own rules.
Before Now is a companion novel to Sometimes Never, and many of its characters are in Park's story. However, it can be read as a stand-alone book.
My Take
I want to preface this review by saying that I have not read Sometimes Never, therefore I was meeting Park & the gang with completely fresh eyes. I also apologize in advance for this review. It's going to be all over the place because I am having a hard time putting into words how much I love this book.
Before Now is the story of Park & Lucy, and is told in dual POV (if you know me, you know I LOVE dual POV).
Park Reed is the ultimate, sexy, bad boy rocker. He's tall, dark, and devastatingly hot with tattoos. He's also broken, on a self-destructive path as he tries to escape his path, using booze and one night stands to forget the pain. He sets up "Life Lessons" which he intends to use to keep from ever having his heart broken, and from ever allowing anyone to get close.
Life Lesson #4: Do not-under any circumstances-fall in love.
Lucy Braden is the blonde girl next door optimist who grew up in foster care and was eventually adopted by a great family. Although she's also had her share of pain in the past, she overcomes it and has a positive, beautiful outlook on life. Lucy has her own set of rules, very different than Park's.
Life Lesson #4: Love whole-heartedly.
When Park moves into an apartment with his friend Jessie, he's greeting by a playful Lucy accidentally shooting him in the face with a water gun, intended for Jessie. Their attraction is instant, as is Jessie's warning for Park to stay away from her.
Lucy immediately sees that Park needs a friend, someone to be there, but he's extremely resistant to her advances. Unfortunately for Park, Lucy's pretty damn persistent. He tries and tries to fight their undeniable chemistry and attraction, but it's not long before he can give in.
Park's past then shows up, causing him to go back to his self-destructing ways, hurting Lucy and himself in the process.
*****
I'm going to try to hold back from breaking into the ultimate gushfest, but I have to tell you--I 100% abso-freaking-lutely loved this book! Park and Lucy are one of my new favorite couples. When I finished the last page, I had a huge, goofy grin on my face and I could not stop smiling. Seriously, in love with this book.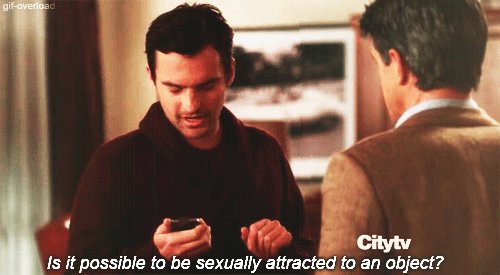 Park... you just couldn't help but love Park. He's damaged, sexy, and a bad boy who's hiding a kind heart. He's ranking very, very high on my book boyfriend list.
Lucy was exactly what Park needed, and vice versa. She does not change Park, she has no intention to. She simply helps draw out his amazing qualities while helping heal the damage that his past created. Their relationship had me laughing, crying, and wanting to throw my Kindle.


Okay, I'm going to stop gushing now. Go read this book and love it! Ms. McIntyre, you have a new fangirl for life. I hope it doesn't freak you out when I say
Favorite Quotes
You're all puppy paws and kitten whiskers. You're too damn good and I don't know what to do with that.


I don't know what it is about him that draws me in. He's an ass. He's arrogant. He's a slut. He's also breathtakingly gorgeous and the way he looks at me makes my body react without permission or apology.
I can't give up on you. I don't know how and that gives you all the power over me. The power to hurt me again and again.
You and me, Lucy, we're like a fire: Hot and unpredictable, scary and mesmerizing all at once. We started with a spark and before I knew it, I was consumed. I love the way you burn me up from the inside out.